No matter what city you live in, unless it's a very, very small town, you can drive down the street at any time of the day and see vehicles wrapped with advertisements.
You know, where the entire car or truck or van is covered with an advertisement for one business or another. Large vinyl sheets are used to wrap the vehicle in such a manner that will advertise for the business purchasing the wrap. Wrap marketing has become very popular among small businesses in particular and you may see everything from The Blind Guy to your favorite realtor as you drive to work every morning.
The benefits of vehicle wrapping are very easy to see.
Your vehicle becomes a moving billboard.
Rather than have your advertisement sit on a traditional sign or park bench, your ad can now be seen at various times all over the city as the vehicle moves down the road. Vehicle wrap is pretty much a mobile billboard with a lot of ad space. The great thing about this for small businesses in particular is that they only have to pay for it once, as long as they don't change the ad or the message that is conveyed on the wrap.
Vehicle wraps provide a great exposure for your brand at probably the lowest cost you could expect to pay to reach your target audience. Statistics show that vehicle wraps truly do work with some surveys estimating one wrap can generate as many as 70,000 impressions per day. People base their buying decision off of seeing vehicle wraps. They do, however, require some artistic ability and graphic design skills in order to have a wrap work to its fullest potential. If you own your own business and want to spend the money on a vehicle wrap, you will want to make sure that the design is perfect for your business.
Here are some tips to help you choose the right vehicle design.
The first thing (and perhaps the most obvious thing) that you should do is to take the vehicle measurements. The sides are the most important, as is the rear, but also the roof, hood and bumpers as well. You should also have measurements of where things like door handles, extreme curves, rivets, and other such parts fall into place. Taking pics is the best way to give a designer proper representation along with the actual measurements. Try not to take pics from angles that will make the vehicle look distorted. You want to make sure you get an idea of how the wrap will fit on your vehicle and its overall appearance will look to the people that will see it as it drives around town.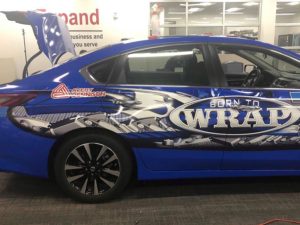 When it comes to designing your vehicle wrap, make sure that it addresses your brand and your market. Make sure everything is in sync because this is not something that you want to have to do over and over. You should be able to express your brand and message in a sentence or two. This wrap is all about building your brand and everything from the message to the colors used should convey your brand message.
By the same token, don't be afraid to take a look at the vehicles wraps that any of your competitors might be doing. Look at the aspects that you like about things your competitor is doing and also the things that you don't like. Then, incorporate that into your own design. There is nothing wrong with learning from what others have done before you and improving on it. Even if there is a wrap that catches your eye from another industry, maybe some of those aspects are relevant to your business.
As you are designing your wrap, remember that bright colors work the best. You want your vehicle wrap to catch people's eye as it drives by, so the last thing you want to do is to use drab colors that are more likely to blend in to their surroundings. It doesn't have to be gaudy, but the colors should evoke the right emotions that relate to your brand and your message. At the same time, remember that bold lettering is a must as well. You want your vehicle wrap to be seen from a distance, as far away as possible. Bright colors and bold lettering will go a long way towards doing that.
Another thing that really works well with vehicle wraps is to create a great illustration. A great graphic or a great illustration can send a message quickly to your demographic and easily convey your brand and message. Many times graphics are used to highlight a particular product or service. For example, if you run a home cleaning business, a vacuum cleaner on the side of your truck might be a great graphic. People will know what it means as soon as they see it.
Your wrap should also be impactful from every angle. Whether people are seeing it from behind when stopped at a stoplight, or passing it on the side on the freeway, your brand and message should be visible. You are not wrapping a vehicle to leave empty space and while every single inch doesn't have to be used up, each side of your vehicle should properly convey your message. While it is important to have your message show up from every side, you also want to avoid overcrowding at the same time. Too many images will tend to confuse the viewer, so try to keep it simple. Don't confuse using the entire area of your vehicle with making it cluttered and too busy.
The above ideas should help you design the perfect wrap for your business. But remember, it is ok to be creative as well. As long as you are properly conveying your brand and your message, there are infinite amounts of ways you can go when designing your vehicle wrap.
Finding the one that works best for your business is part of the fun. The the best vehicle wrap in the area, get in touch with Precision Custom Graphics today!